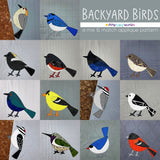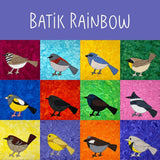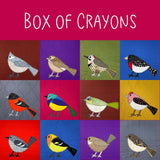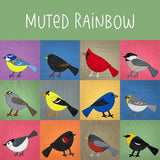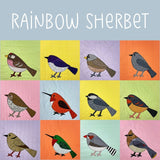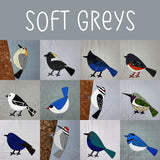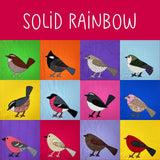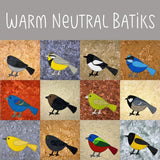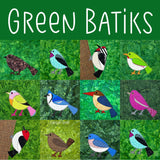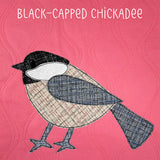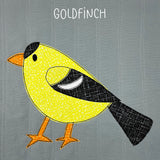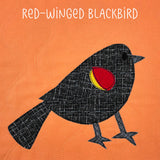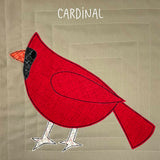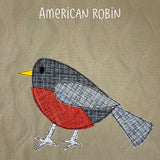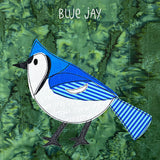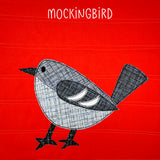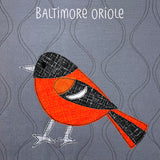 Backyard Birds - a Mix & Match Applique Quilt Pattern
The Backyard Birds pattern is so much more than just a pattern!
You get templates for just about any songbird you might like to make. I can say that because I've tested it EXTENSIVELY - making over 100 different birds from all over the world.
I include instructions for making all 100 of those birds - plus a bonus bird I added for the step-by-step video.
Here's a little peek at just ten of them.
In addition to basic videos showing how to applique, there are four additional videos specific to this pattern.
Intro to All the Bird Templates - a 32 minute video walking you through all the templates included in the pattern and showing how you can use them
Creative Ways to Use the Bird Templates - an 11 minute video showing you some unexpected ways to use the templates, like using the tail center stripe piece as an exceptionally large beak, or using the collar piece to add a flash of underwing color
Working from a Reference Photo - a 10 minute video in which I walk you step by step through looking at a reference photo (a lazuli bunting) showing you how to "translate" that photo into the templates.
How to Assemble the Bird Block - a 12 minute video showing all the steps for one block (a hooded warbler) from printing out the pattern templates through doing the outline stitching
This is exclusively available as a PDF pattern, delivered instantly and ready to print onto letter-size paper or fusible adhesive sheets. No shipping costs and no waiting!
You Get. . .
A digital pattern delivered instantly by email - if you're not sure what a digital pattern is, click here for more info
Templates for left and right-facing birds - bodies, breasts, bellies, wings, shoulders, hoods, caps, collars, cheeks and more.
SVG files for all applique templates - to use with cutting machines
Instructions for more than 100 birds - with a sample block and template list for each bird  
Detailed instructions and links to videos teaching you all the skills you'll need to complete the project. It's a workshop disguised as a pattern! 
Detailed cutting instructions for crib, nap and twin sized quilts, plus a link to info for three additional sizes.
Instructions for assembling the quilt – layering, basting, quilting and binding – with links to videos for all of them - including links to Quilt As You Go videos.
Size
Each block finishes at 10 inches square. The pattern includes detailed instructions for the following sizes. . .
crib (

52.5" wide x 57.5" tall

)

napping (

52.5" wide x 69" tall

) - this is my favorite size for on the couch

twin (

75" wide x 92" tall)
There's yardage, supply list, and detailed cutting instructions for Itty Bitty Baby, Queen, and King sizes here.
You can also use the bird patterns for lots of other projects, like wall hangings, table runners, placemats, and more.
Difficulty
I designed this quilt to be easy enough for beginners, and a fun and relaxing project for more experienced stitchers. The chart listing all the birds and their templates also includes a difficulty rating for each bird, so you can start with the easy ones and work your way up to those with more complex patterning. If you can use your sewing machine, you have the skills you need to make this beautiful bird quilt.
I used appliqué with fusible adhesive and Quilt As You Go to make a super easy quilt - almost all done on the machine. The pattern also includes links to videos teaching needle turn appliqué and machine appliqué with freezer paper, in case you prefer those methods.
Have fun with it!
Materials Needed

You can find links to sources for many of my favorite tools and supplies here.
This post has a detailed list of the kinds of fabrics you'll want to gather up to make realistic birds - including a handy printable list you can use to shop your stash and take to the fabric store.
If you're making a quilt in one of my standard sizes, here are recommended fabric amounts needed.
Crib Size (50" square)
3 yards of a variety of background fabrics

assorted prints for the appliques (get at least 7 fat quarters, but you'll probably want more for variety)

2 1/2 yards fabric for the quilt back (or 1 1/2 yards 

Cuddle Fleece

)

1/2 yard binding fabric
Napping Size (50" x 60")
3 1/3 yards of a variety of background fabrics

assorted prints for the appliques (get at least 8 fat quarters, but you'll probably want more for variety)

4 yards fabric for the quilt back (or 2 yards 

Cuddle Fleece

)

1/2 yard binding fabric
Twin Size (70" x 90")
7 yards of a variety of background fabrics

assorted prints for the appliques (get at least 16 fat quarters, but you'll probably want more for variety)

5 yards fabric for the quilt back (or 4 yards 

Cuddle Fleece

)

5/8 yard binding fabric
You'll find materials lists for additional quilt sizes here.
Other Materials
batting (I love Warm & Natural cotton batting)
freezer paper (for machine applique technique) – either a roll from the grocery store, or this printable freezer paper
fusible adhesive (I use Heat & Bond Lite for all my quilts.) You can plan on one pack of printable sheets being enough for about ten birds.
Permissions
This pattern is not available for commercial resale. That means you may not copy and sell or digitally distribute the pattern or any variation of the pattern. 
For example, you may not print the pattern and sell those copies.

You may not use the designs in the pattern to create and sell an embroidery pattern, or acrylic templates of all the pieces in the pattern.
Yes!
You may, however, sell anything you make with Shiny Happy World patterns as long as you are the one making it.
For example, if you're using this pattern to make pillows which you sell at a craft fair or in an online shop, that's great!
Maybe
If you're hiring out any part of the process, please get in touch and we'll work out a fair licensing agreement.

For example, if you want to hire someone to sew those pillows, or if you want to have the design printed on fabric that you sew into pillows, those two scenarios would require a licensing agreement. Get in touch! I'm easy to talk to. :-) smile@shinyhappyworld.com